BPM and SOA (posted by Fabien Villard)
We see more and more attention on relations between SOA and other parts of IT, with important questions like the one raised in the following blog post: http://www.jpmorgenthal.com/morgenthal/?p=103.
Relations between SOA and BPM is like relations between bass guitar and drums. They live separately and have their own rules, but they can produce great music together.
Praxeme establishes clearly the relations. Processes are part of the Pragmatic Aspect, describing complex relations between actors and the system. With the help of business objects and operations that are part of the Semantic Aspect, processes are then derived into the SOA architecture style which is an architectural choice operated via the Logical Aspect. This is summarized by the following diagram which is part of the Enterprise System Topology: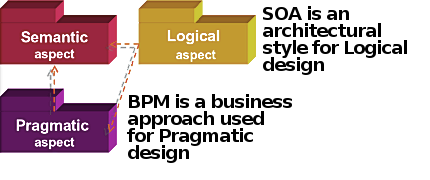 More informations on Praxeme and SOA:
http://www.praxeme.org/DocumentsEnAnglais/SLB15-SOAMessages_EN.pdf